In early December there was the Partin day where more than 80 small NGOs came together to learn from each other and from the various speakers.
Around 3am O Foundation had half an hour in which three small NGOs who came with the best of the preliminaries, could present their idea.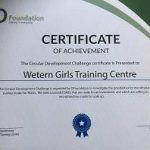 The winner was determined by the public on the basis of the hardest / cheer for who they thought had the best idea.
The idea of recycled bags Western Girls Training Center was warmly received but not quite as warm as the APPA menstrual kits for Burkina Faso.
Of course we will further develop the idea of recycled shopping bag, just not as big and with initially less support from third parties than imagined.
It was an educational process, led by Ofoundation in order to examine and prepare an idea as a business project.