COVID-19 has impacted the whole world. In Ghana we have been luckier than many parts of the world. The lockdown was in Accra, Tema and Kumasi. The western Region of Ghana where we are has had relatively very low number of COVIS-19 related deaths and infections. Yet the whole populace is adhering to the government directives to wear face masks, wash our hands regularly, and the use hand sanitizers. In the beginning of the Pandemic, we started the production of face masks for sale to the public, but the market has become very much inundated with face masks as everyone is gone into the production of face masks , so we have decided to put a halt to the production. Life goes on with or without COVID. The only thing we can do is to adhere to the protocols as stipulated by the government. The wearing of face masks is not always comfortable but it has become the "new – normal". Read here how our year was, with and without COVID.
January
In January the girls returned from a well deserved two weeks vacation, because they stayed working during the Christmas holiday. It was real fun to see each one of them making beautiful clothes for friends and family to earn some pocket money. It's also a time of assessing what they have learned so far.
This year, a few of our girls will graduate so we decided to pick a date for graduation for the third-year girls, which will be held in December.
In addition, it was brought to our knowledge that we have to change all the bulbs and find an electrician to fix all broken down power plugs.
March
At the beginning of March, while the corona pandemic was already present in the rest of the world, it didn't reach Ghana yet. However, half of March it reached Ghana as well. Not as bad as Europe yet. At the beginning, all schools and churches were closed. In addition, Ghanaians were walking around with facemasks and the prices of sanitizers for your hands are now 10 times more expensive than usual.
However, we were still able to celebrate our New-Years party (better late than never).
But at the end of March, COVID 19 is a fact: there are isolated cases in Accra, Tema and Kumasi. There is a feeling of general fear of this unknown disease everywhere in the country. The government has decided to lockdown Accra, Tema, Kumasi and all schools have been closed down. The borders of the country have been closed including the airports . The girls also have been sent home until we know more how this virus will behave.
May:
Unfortunately, May didn't start well. Thieves have tried to break in to our training centre, however, they failed. Luckily, the girls didn't return yet, so the place was empty. Our door has been damaged and broken, so we had to fix this.
However, we also had good news in May! The girls have all safely returned to the centre with the exception of Lucy – who is Theresa's assistant. She has decided to learn to sew men's African wear too. We have to follow the COVID 19 protocol laid down by the government. These are :
The Washing of hands intermittently
Social distancing
Wearing of face masks.
We have provided a bucket of water with a tap. Hand soaps , disposable tissues and hand sanitiser
We decided to produce facemasks that the girls can sell, since it is mandatory now. In addition, we produced our own soap that we do not have to buy the scarce and expensive sanitizer. We also taught the girls more about hygiene and everything that is important now. And teaching while social distancing went great!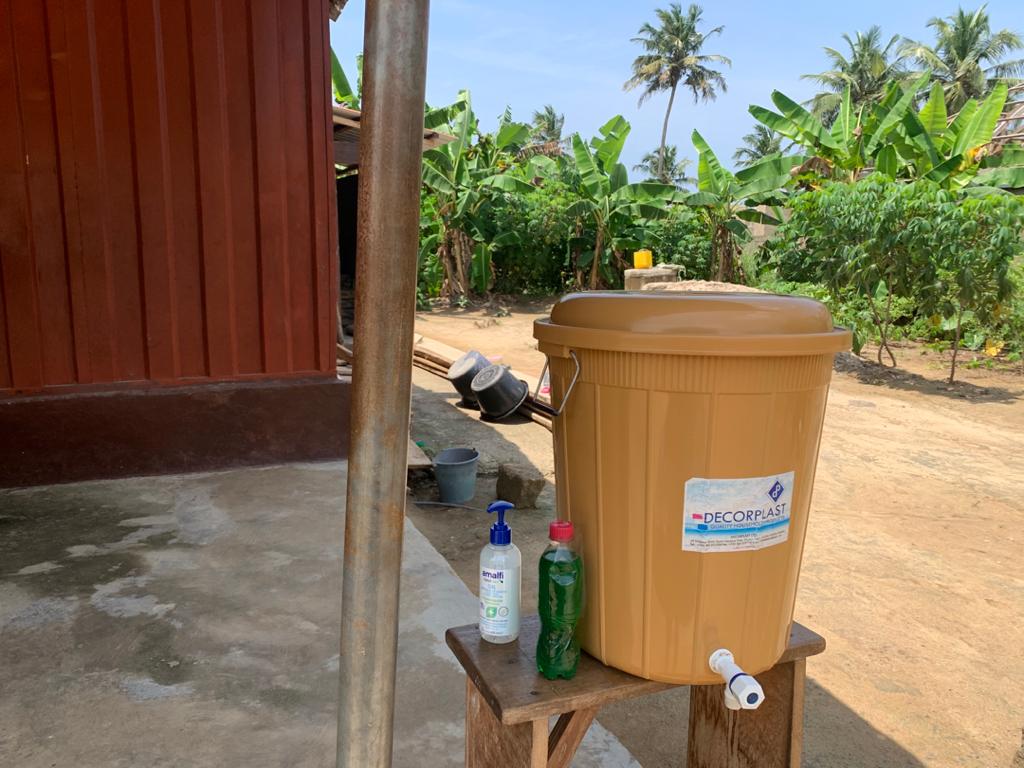 Our board members from the Netherlands were afraid of what COVID-19 would do to Ghana, since they live in different circumstances than in the Netherlands. In the city Takoradi, which is the closes to the trainings centre, there is only one ventilator in the hospital. Because of this, it was so important that people started to wear the facemasks. Luckily, Ghana was not hit that hard as Europe.
September
We have 2 new girls from the surrounding villages. Mary and Matilda. They are sixteen and seventeen respectively. They both sleep at the centre and go home during the weekend. We haven't sold anything yet this year. We made our own liquid soap for our own use at the centre. This could later also earn them an extra income.
December
This month is our Graduation month!
Two of the three girls – Victoria and Aisha graduated as planned. The third girl dropped out at the last moment due to problems at home. Very very unfortunate. We couldn't get in touch with her because she offed her phone.
Graduation day was really grand. Lots of family members were in attendance and the party was a success!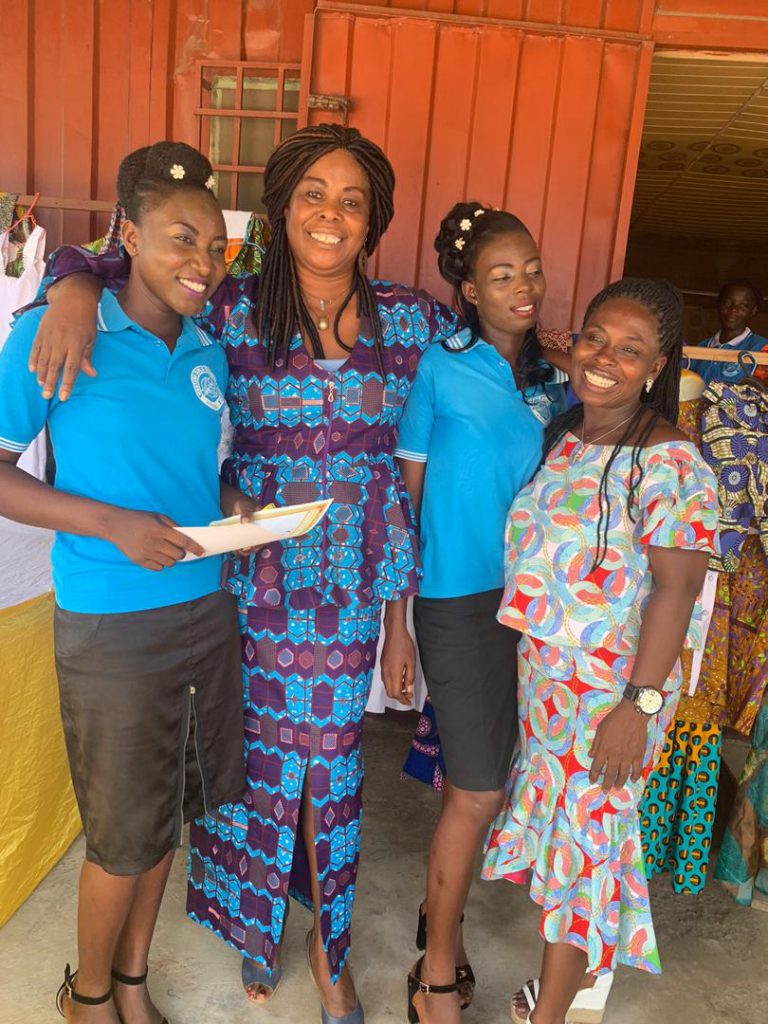 In addition, a new girl joined us in December. Her name is Sophia. She is 16 years old.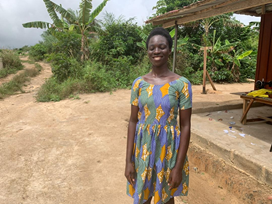 What 2020 brought us:
We are so delightful that COVID 19 didn't hit Ghana so hard. According to Ghana Health Service, since the outbreak in March, 533 people past away (15-02-2021). At the moment, there are some new regulations again since it is rising, however, the country is not in lockdown and it is possible to travel to Ghana now.
What we would like to do in 2021:
There is a fault in the wiring system which destroys our plugs. Last year we bought 3 new pressing irons. So the wiring has to be replaced. We have already contacted an electrician for this. He has promised to come at the beginning of January. In addition, we would like to build a fence around the property.
We've got some exciting news as well! In the Netherlands, we are working on creating a webshop for our products. Due to the pandemic, it has been hard to sell products, so this gave us the last push to create a webshop. We have talked about it before, but never pursued it, and now we will. So stay tuned!!!
In addition, we are going to post more regularly on our website and Facebook.